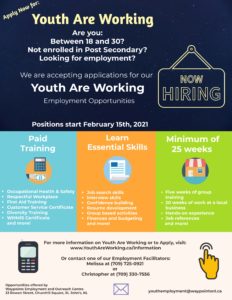 Now accepting applications for our 25-week Youth Are Working Employment Opportunities!
Start Date: TBD
Job Summary
Are you…
Between the ages of 18 and 29
Need help finding or maintaining rewarding employment?
Available to work?
Not attending high school or post-secondary programming
Note: Students currently enrolled in high school or post secondary are not eligible for this project.
We will provide you with a variety of training and growth opportunities.
During pre-employment skills training, you can take part in training and skills development in the following areas and more:
Emergency First Aid with CPR Level C
Respectful Workplace Training
Resume Building
WHMIS Certificate
Job Interview Training
Customer Service
Communication
Job Search Strategies
Occupational Health & Safety Committee Certificate
Financial Management
Team building
Now, ready for work, you will be matched with an employer based on your skills set. You will have ongoing support from career services staff throughout. Additional opportunities include personal and career development to help you identify your interests, develop your skills and build your future career plan.
Interested?
To learn more about this exciting opportunity, please contact our Employment and Outreach Office by email. We are located at 23 Rowan Street, Churchill Square. You can also check out our website: www.youthareworking.ca to apply online.
Contract length: 25 weeks
Hours: 32 per week
Salary: $12.50 per hour