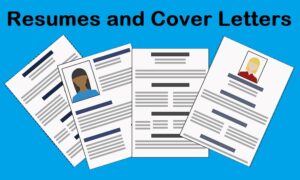 Your resume and cover letter are the first contact that you will likely have with a potential employer. A resume shows off your skills, education, and accomplishments. Remember it is just a spec sheet, and doesn't need to be super detailed. A cover letter introduces you to employers, and gives them a sense of who you are.
There are three different types of resumes: Chronological, Functional, and Combination.
A Chronological resume gives a sample of your previous jobs and experience in order from most recent to the least recent.
A functional resume focuses on skills, education and training, rather than job experience. This is a good options if you have been out of the work force for a long time, or if you have limited job experience.
A combination, or hybrid, resume has a little of everything, including some of your previous job experience mixed with a highlight of your skills.
Cover Letters should be used whenever you apply for a job. It shows you are truly interested, and know what the job is about. It also gives you the opportunity to show that you are qualified and would make a good match by giving more details that your resume.
Although some people use general cover letters not specific to a job ad or position, remember, the hiring manager wants to know why you would be a good fit. This is your opportunity to shine.