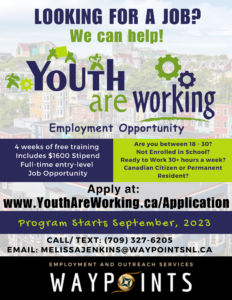 The Waypoints Employment and Outreach Services office is now accepting applications for our September launch of Youth Are Working.
Our flagship program has been successful in helping young adults aged 18-30 receive FREE training and find entry-level employment opportunities.
Our participants complete Emergency First Aid, Occupational Health and Safety Committee training, Respectful Workplace training, Communication Workshops, and many work-related skill training and certificates.
If you are interested in the Youth Are Working program, are between 18 and 30 years of age, not in school, and ready to work, apply at www.YouthAreWorking.ca/application and start your journey to employment.